LGR Dehumidifiers:
We stock portable dehumidification for water mitigation /construction drying with automated hose drainage . With models from 45L  LGR per day up to 70L LGR per day moisture removal, our fleet of dehumidifiers are perfect for domestic, commercial, or industrial use. We offer portable, easy transportation with wheels, dehumidifiers  for rentals.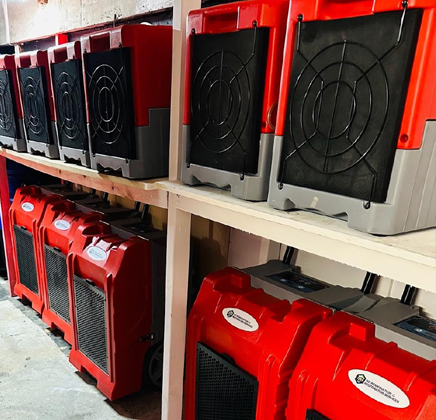 Fans & Air Movers:

Fans and air movers are designed to accelerate evaporation in water damage properties. Our commercial fans/air movers are designed to target high velocity airflow across walls, floor, and/or ceilings depending on how they are placed to achieve  maximum evaporation. Air movers are essential for quickly drying an area and preventing secondary damages. We offer compact-designed, lightweight air movers for rentals.
Air Scrubbers:
Portable air scrubbers are HEPA filtration  designed to filter air particles down to 0.3 microns in size. They operate with 99.97% efficiency and are simple to transport. They are useful for a number of professionals, including those in the construction and healthcare fields, as they effectively remove airborne dust, contaminants and bacteria. We offer compact-designed, lightweight air scrubbers for rentals.